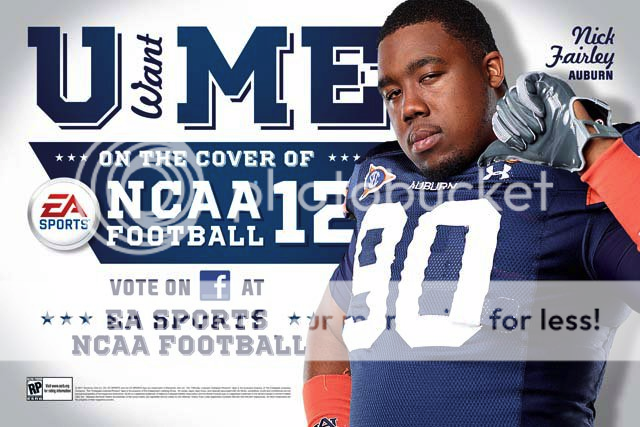 Turns out Auburn fans won't have to make a tough decision when it comes to voting on the cover of NCAA 12 Football after all: Nick Fairley is the only Auburn man in the running.
When we were told (in confidence — could only refer to it as "lobbying") before our interview with Nick Fairley that he would be up for cover boy in an online contest requiring a surge of Auburn fan support, we expected a few awkward weeks of #TeamCam vs. #TeamFairley hash tags, annoying invites from factional Facebook groups… and of course Nick's inevitable crushing defeat — surely The Blessed Individual would be a choice, and The Blessed Individual would surely win,at least the votes of Auburn fans.
But he's not, so he won't.
Not even The Smile and the greatest single season for a player in the history of college football could convince the EA suits to risk the PR nightmare were the sound a 1960s toaster oven would make heard in The Tapes proven to be the voice of Cam Newton, or were something equally as damning to surface before the game's July 12 release date (at least, so goes the best theory as to the snub). Which kind of sucks — because it won't be proven, and if ever a player deserved that cover, it was Cameron Newton.
The other candiates are Mark Ingram (seriously, EA?), Washington quarterback Jake Locker, and Oklahoma running back DeMarco Murray. So, uh, yeah… #TeamFairley.
"You want 14-0."
…
Keep Reading:
* Harvey Updyke in high school
* Could Bieber Fever save the Toomer's Oaks?
* Toomer's Corner after Punt, Bama, Punt
* Bo and Me
* The University of Alabama White Bears?
* De La Soul's DJ Maseo says he'd lend talent to pregame if 'conducive'
* Barrett Trotter knows when to hold'em
* Bear Bryant's lost year at Auburn
* The Secret History of Pat Dye Field
* Erin Andrews at Toomer's Corner
* In the time of "Got 13″ she was a Tiger
* The Auburn player who played for Bama… and Busey