Ten observations as we close the book on an incredible performance in Atlanta and prepare to devote our full attention to a squad of multi-costumed waterfowl from the Pacific Northwest:
December 4, 2010. It was delicious, and went down easy.
1. When in living memory has an Auburn football team ever delivered such an unequivocal beat-down to such a formidable opponent in such an important football game?
Certainly not in any Iron Bowl we can remember.  In the years when Auburn beats Bama, it's almost always by fewer than ten points, and even in the years when Auburn takes a commanding lead part of the way through the game, the Tide always manages to come back and make the final score closer than it should be.
A handful of Iron Bowls in recent years have featured the Tigers playing for something greater, and in each case they had to come from behind or hold on for a narrow victory.  Beating the Tide in 2000 to get to Atlanta came down to three field goals in the muck.  Beating them for the same outcome in 1997 required a miracle last-minute fumble by Ed Scissum.  In order to take them down in 1993 to finish off a perfect season, the Tigers had to rally heroically from fourteen points down.
Other big, meaningful Auburn wins, where something huge was on the line?  Our wins in the 2004 SEC Championship Game and the Sugar Bowl that same season both threatened to turn into blowouts, but in both cases the Tigers put on the brakes in the second half and witnessed a beaten foe come roaring back to make the margin far closer than it had any business being.
Even our win in the 1983 Sugar Bowl—a game during which players and fans believed there was at least a chance that Auburn could claim a national championship with a positive outcome in the game—came with the Tigers  kicking a last-second field goal to claim a 9-7 victory.  Not enough to impress voters into moving us up from #3 to #2 in the final poll, much less #1.
So, to answer the question: When was the last time Auburn won so decisively in such a big game, with so much on the line?  The only answer we can come up with is:  NEVER.  This team is truly special.
2. Auburn has this season already defeated teams that are appearing in the Sugar Bowl, the Cotton Bowl, the Capital One Bowl, the Chik-Fil-A Bowl, the Gator Bowl, the Liberty Bowl, the Compass Bowl, and the Meineke Car Care Bowl.  Eight bowl teams, including a BCS bowler and several other January 1 bowls.  Even the 1983 squad, famous for its 11-1 record against the toughest schedule in the country that year, would be hard-pressed to match that.  And if all goes well on January 10, we can add one more bowl team to that list: BCS Championship.
3. A fast start at last. Two plays into the game, and instead of a run up the middle for no gain (hello, Iron Bowl), Cam does the little fakey-duck-down thing, then chucks the rock almost the length of the field for a huge completion to Darvin "Alshon Who?" Adams.  It was obvious that Gus and Chizik understood that the Tigers needed to make a big, bold impression on offense at the earliest opportunity, to get the ball rolling and put the South Carolina defense on its collective back foot immediately. That's just what they did.  And they didn't let up.
4. How many times this season have you caught yourself saying, "Cam Newton is even better than I thought?" Yeah.  A lot. Us, too.
5. How nervous should it make us that Texas just fired its offensive coordinator? Is Mack Brown capable of hiring his own (successful) assistant coaches, or will he continue to try to outsource to Auburn as his Human Resources Department?  Gene Chizik (also on the heels of a Frank Broyles Award) after 2004… Will Muschamp after 2007… Will yet another great Auburn assistant coach wind up moving to Austin and donning that weird brown/orange color after a big year on the Plains?
Does Gus even want to be an OC at another program—even one with the resources and the visibility of Texas?  Or has he gained enough visibility and notoriety from this season to jump straight to a top head coaching job?  Or does he want to continue to be in a position to innovate plays and run offenses, rather than spending so much time on the rubber chicken circuit that makes up a big portion of the world of head coaches?  Would he be content to stay at Auburn for any amount of money if we win the BCS title this season?  So many questions, and no answers likely forthcoming for a little while longer.
The hottest OC name right now (non-Auburn) is Dana Holgorsen, who was at Houston last year and is (for now) the coordinator at Oklahoma State.  He has been mentioned at both Florida and Texas. Under Holgorsen's system, the Cowboys' offense ranked first nationally in total yards (537.58 yards per game) and third in scoring (44.92 points per game).  Just as Gene Chizik went to the state of Oklahoma to grab up a mad genius playcaller (among others now on our staff) when he took the Auburn job, Florida's next head coach might well be making the trek to Stillwater to snag Holgorsen.  That is, if Mac Brown doesn't grab him first.  Either way, that leaves an opening that either program would love to see filled by our beloved Dr. Gustav.
( Assuming that Addazio will be heading out of Gainesville with Urban Meyer's departure, we may be seeing a "victory parade" in Gainesville whether the Gators win their bowl or not.)
One downside to the BCS Title Game coming so late (January 10): Malzahn will most likely have long-since announced his plans by then. If he's leaving us, we will go to Glendale knowing he's a—you'll pardon the expression—lame duck.
Nightmare scenario:  Imagine if circumstances play out such that he leaves before the bowl game.  Now pour a bucket of cold water over yourself and pick yourself back up off the floor.  It could happen.
6. The SEC this year is overflowing with juniors who are potentially high NFL draft picks.  The situation is clouded because of the upcoming labor negotiations between the NFL and the Players' Association (NFLPA). Many observers believe that a work-stoppage is a real possibility.  Players must declare for the NFL Draft by January 15, and it seems highly unlikely the NFL will reach labor peace by then. If a new collective bargaining agreement can't be reached, the current deal will expire March 3.
Players such as Cam Newton, Nick Fairley and others (see list below) therefore will have to decide whether to go pro in January or not.   If they do, they may be drafted in April but could be unable to sign contracts due to the labor standoff.  So they could find themselves in a situation where they don't get paid next year but cannot go back to college.  Agents are probably telling these players and their families that it won't be a problem, but it should be a real concern.
Here are the SEC players who in a normal year would be giving much consideration to going pro:
Auburn: Cam Newton, Nick Fairley
Alabama: Mark Ingram, Marcel Dareus, Julio Jones
Arkansas: Ryan Mallett
LSU: Patrick Peterson
Georgia:  J. Houston, A. J. Green
Florida: Janoris Jenkins
Kentucky: Randall Cobb
Ole Miss:  J. Powe (already declared for the NFL)
At this point college players can request an opinion from the NFL advisory committee.  This will give them an honest opinion at this point about where they could be drafted, to help them make the decision.  We expect all of these players to request that review.
7. Auburn vs. Oregon:  epic battle.  Aubie vs. Puddles the Duck:  Possibly even more epic battle. You make the call:  Aubie.  Puddles.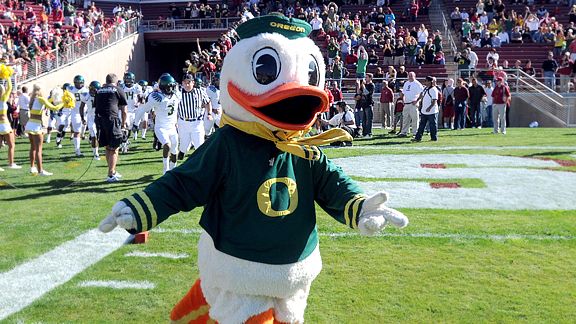 8. Oregon's toughest opponent this season was BCS #4 Stanford, now bound for the Orange Bowl to face Virginia Tech.  We're thinking not many folks in our part of the country got to see that matchup, but it's very instructive in helping to understand how the Ducks can just lurk and hang back and then suddenly (often somewhere during the third quarter) just explode on you—even if you are a very good team.  You have them down by two touchdowns and then suddenly you realize it's you that's down double-digits, before you could even catch your breath.  (Speaking of catching your breath, one Tennessee player reportedly told an Oregon player during the first quarter of their game in Knoxville that if the Ducks didn't slow down on offense, he was going to throw up—to which the Oregon player replied with words to the effect of, "Just wait till you see how fast we go in the second half!")
Stanford had Oregon down 21-3 early, and lost 52-31.  That's a 49-10 swing.  See it here.
Tennessee had them down 13-3 late in the second quarter, and lost 48-13.  That was a 35-0 run by the Ducks in the second half.   See it here.
Of course, the whole concept of big points-exploding comebacks sounds somewhat familiar to Auburn folks.  We've seen it time and again this season, ourselves.  Somehow, though, the way Oregon does it—so steadily, so smoothly, so relentlessly—is disconcerting.  What we did to Arkansas in the last few minutes of the game?  That's what Oregon does to most of their foes every week.
9.  Preparing for the pace of Oregon's offense is the biggest challenge when facing them. During the regular season, there's virtually no way to get ready for it—to have the chance to thoroughly examine it and have the scout team run something even approximating it during practices.  A week is simply not enough time for that dramatic a change in scheme.  But… thirty-seven days is plenty of time.  While there's no way the scout team could come close to duplicating that ridiculous pace, we expect that they will be running plays as fast as humanly possible—is every eight seconds too much to ask for?—in practice from now until January 10.  The Tiger defense will have a lot more time than the average team did to adjust to what they will be seeing in Glendale.  This represents a real benefit for Auburn.
10. Are we ready to play a team that will actually be in a hurry to put our offense back out on the field again? Does Oregon's entire approach play right into our hands?
Seemingly every team the Tigers have faced this season has attempted to slow the game down and keep Cam and Company on the bench.  Limiting Auburn's possessions and Cam's touches of the ball has been Goal #1 for our opponents—though few have been terribly successful at it.  But it's what we've gotten used to, for better or worse.
Now we're looking at a team that likes to measure the time it takes to drive down the field and score in picoseconds.  Do the Ducks really want to keep putting our offense back out on the field that often?  Do they think we can't match them, score for score?  Will we speed things up in response, or try to slow it down ourselves?
They don't mind falling behind early as a result of that style of play.  It doesn't faze them in the slightest. They know that a point will come—often in the third quarter, for some reason—when the dam will break and they will flood their opponent with scores.
The problem they face with Auburn is that they may not be able to pull away at any point.  Just as Arkansas found when they tried to outscore the Tigers, they might late in the game be congratulating themselves on scoring 43, only to look up and see a big 65 has been hung on them.
What will they do if they can't stop us from scoring?  What will we do if we can't stop them?  Who will crack first?  Who will come up with the key adjustment?  What will we do when we have to go to the restroom but don't dare look away for an instant?
That kind of strategic thinking, on both sides, is a major part of why this game is so fascinating and so compelling.  Thank goodness we have over a month to go before they meet on the field; it'll take us that long just to begin to consider and sort through all the possible permutations.
One thing's for certain, when these two take the field:  Don't blink.
…
Van Allen Plexico managed to attend Auburn (and score student football tickets) for some portion of every year between 1986 and 1996. He realizes that's probably not something one should brag about, but hey. He teaches college near St Louis (because ten years as a student was somehow just not enough time to spend at school) and writes and edits for a variety of publishers. Find links to his various projects at www.plexico.net.
John Ringer graduated from Auburn in 1991 (which may be the greatest time ever to be an Auburn student – SEC titles in 1987, 88 and 89 and the 1989 Iron Bowl). His family has had season tickets every year since well before he was born and he grew up wandering around Jordan-Hare on game days. He currently lives in Richmond, Virginia where he spends way too much time reading about college football on the internet and teaching his children to love Auburn football.