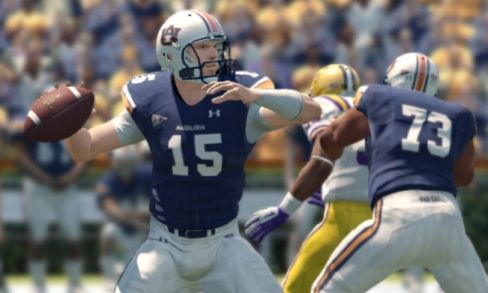 Last year, we discovered early on that EA Sports had something special in store for Auburn fans in its annual offering in the long-running video game franchise.
This time around, there doesn't appear to be much in the way of new features for the Virtual Tigers. But then again, unlike Auburn's 2010, the real-life 2011 squad didn't do quite as much to earn any special treatment.
Still, there's plenty for the inquisitive Auburn fan to know about this year's edition, which will be available in stores Tuesday.
Visually, the biggest change to Auburn is a remodelling of the Tigers' pants to mimic the stripe's current tapering-off effect.
But the absolute biggest difference that NCAA-gamers will notice lies with Auburn's all-new offensive playbook, completely remade to model new offensive coordinator Scot Loeffler's philosophy.
If you just can't wait to find to out what's inside, our good friends at The Gaming Tailgate have captured a pre-release scroll-through of the entire playbook.
While most are still wondering whether Scot Loeffler's philosophy will lean more spread or pro-style, we at least have EA Sports' best guess. Virtual Loeffler's playbook consists of 8 under-center formations, and 16 shotgun/pistol formations (not counting the customary Goal Line and Hail Mary sets).
Aside from the playbook, the experts over at The Gaming Tailgate see plenty of potential this year's virtual Auburn squad.
"Looking at Auburn's stable of quarterbacks, they appear to be very dangerous," said administrator Chris Jacobs. "Should the user not feel comfortable making a throw, all three players have the athleticism to break loose for a big run."
Auburn's three quarterbacks on the game, QB #15, QB #10 and QB #17**, have ratings of 71, 85, 81 respectively in Speed, and 80, 90, 83 respectively in Acceleration.
"In my opinion, Auburn should be considered a sleeper pick in a lot of Online Dynasties with three athletic quarterbacks on the roster," Jacobs said. "Even if one gets banged up, there isn't a huge drop-off amongst the three."
Some of Auburn's best players on the game include HB #23 at 92-overall, and LE #55 and TE #43 at 91-overall.
Luckily for Auburn fans considering picking up this year's version of the game, they might be able to put those three mobile quarterbacks to good use.
"This year in the game, users are going to immediately notice the changes to the passing game," said Jacobs. "Most notably, the ability to place the ball with more precision and no more 'psychic' defensive backs."
Still no word on whether real-life Les Miles was using those "psychic defensive backs" on Clint Moseley in Baton Rouge last year.
*Of course, EA Sports can't use student-athletes' real names. So: QB #15.
**Zeke Pike? Jonathan Wallace? Who does this guy look like to you?
Photo via.
Related: 'NCAA Football 14′ could include Tiger Walk, Toomer's Corner features.
…
Keep Reading:
* Watch the play that cost Auburn the 1974 Iron Bowl
* The Eagles' Joe Walsh in an Auburn shirt
* Auburn's banned 1979 student recruitment poster
* Only undefeated Triple Crown winner owned by Auburn grads
* Elvis says "War Eagle"
* Alabama in Auburn gear
* Diagram of a 1983 Auburn student
* That OTHER time they burned the Glom

Like us on Facebook. Follow us on Twitter. Want to advertise?