Auburn Football Pocket Schedule (1957)
"This is a 1957 Auburn pocket schedule I bought on Ebay a few years back. At the time I bought it I thought it would be cool to own something from Auburn's 1957 championship season. I was surprised that they made pocket schedules back then. Notice the admission prices printed on the schedule."
–       Kelly Benefield
One of the great things for me in doing Relics is getting to sort of re-live events that were both before my time as a student and before my time on Earth. With something like this pocket schedule Kelly submitted, I get to feel nostalgic for a time when you could see 10 games for $40 and the Tigers were on top of the college football world. I've always found it odd that more wasn't made of the 1957 National Championship. I realize it was a long time ago, but prior to winning again in 2010 it just didn't seem to get much attention. I mean, we all knew about it, but there wasn't much in the way of banners or stadium signage commemorating the accomplishment. At least not in my days as a student in the mid to late '90s or that I saw in my regular visits back for games every year since. You couldn't easily find "1957 National Champions" printed items at the bookstore. Now, of course, it's up there above the scoreboard in large orange print and it's hanging in the indoor practice facility next to the logo for 2010.  Shug and his boys earned that title, and I'm glad Chizik and company could help bring it back to the forefront a little bit.
Auburn National Championship Glass (1957)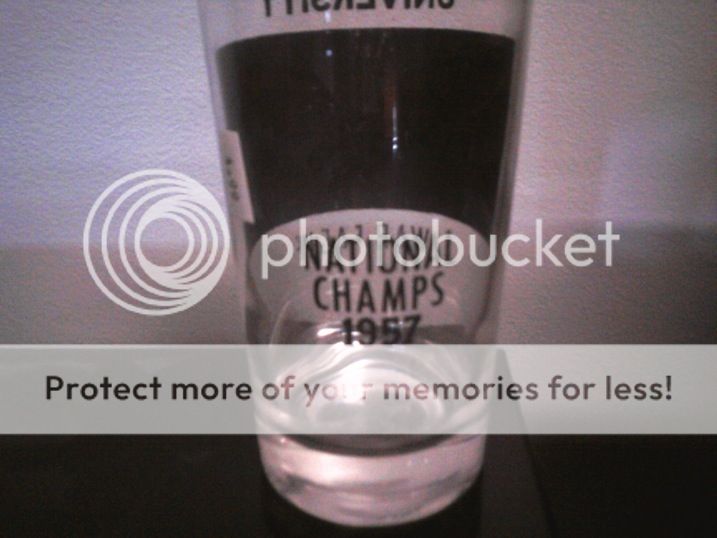 "My favorite. Original. OLD.  1957 Nat Championship commemorative glass. Ebay?  Nope.  Got it at Mission Thrift across from the mall years ago. $5. That was a good day."
–       Lonnie (aka 2xTiger)
Now here's an item that didn't fail to celebrate the championship properly. What better way to toast the Tiger's good fortune than with this commemorative glass? A great thrift store find.
Auburn – Arizona Program (1977)
"This '77 program commemorates the '57 team's National Championship. I love the picture on the front."
–       Lonnie (aka 2xTiger)
Doug Barfield's second Auburn team kicked off its season against the Arizona Wildcats at Jordan-Hare with a 21-10 victory. That day the school celebrated the 20th anniversary of its first national championship with a special edition of the game program. I was in school in 1997 and I don't remember much made about the 40th anniversary of the title. Maybe I just missed it, or maybe too much time had passed for most people to make a big deal about it. At least the 2007 team wore throwback uniforms for homecoming to honor the championship team. I look forward to seeing how we remember and honor that 2010 team in the future, and hope we don't forget about the 1957 squad in the process.
Aubie Flakes (2000)
"Something my brother has… Not sure what year it's from?"
–       Hannah Norman '02
According to The Plainsman, Aubie Flakes debuted back in the fall of 2000 on a day when Rudi Johnson and his Auburn teammates would go on to get pancaked (breakfast theme) by the Gators 38-7. Tuberville's Tigers must have had an extra bowl the rest of the way, as they went undefeated in the four remaining regular season games after the cereal's release. If only it had been enough to get them past Florida in their rematch in the Georgia Dome. Oh well, at least it was the Breakfast of SEC West Champions.
Sunbeam Bread Auburn Card (1976)
"Card is part of an NCAA / SEC collector's series that came in bags of Sunbeam bread in '76. And those are bread stains."
–       Jeremy
Our own Jeremy Henderson sent me this rare Sunbeam card which seemed to have some Auburn nickname confusion.  The front simply says "War Eagle," which is fine and could be taken as a perfectly acceptable use of the battle cry. The back, however, proves that wasn't the case. They drop the nails-on-a-blackboard "War Eagles" not once but twice. If there had been internet message boards in 1976 (or the internet), I imagine a boycott of Sunbeam bread would have been organized as a result of the negative tone of the '75 season recap (What do they mean "fluttering"?! Haters!). At least they promised good things in '76 due to "plenty of enthusiasm and determination." I hear those were Barfield's specialties. Also, since I was born in November of that year and didn't catch many games, anyone remember if 5-2 really was the conventional defensive scheme back then? Just curious.
SEC Sign (2010)
"Here is an SEC sign that I got from the SEC championship game in '10. I was seated on the front row of the end zone, and after the game a lot of the players jumped into the seats where we were. Eric Smith had this sign, and when he jumped down out of the stands he handed it to me."
–       Justin Malone
Now that is a pretty great souvenir to take away from the most lopsided victory in SEC Championship Game history. Beats the souvenir I got when I left the dome after the 1998 Peach Bowl, that's for sure. I can also assure you that this submission was used strictly on the merits of its keepsake qualities and not because it highlights one (or two, in this case) of the other great things about Auburn.
Tiger Rags Sweatshirt (Mid-'80s)
–       David / @dadamsAU
What could possibly be more quintessentially '80s than this sweatshirt? Nothing, that's what.
That'll do it for this edition. Thanks as always to all of our great contributors. For previous installments, click here. If you have something you'd like to share, send it to me at aufearlessandtrue@gmail.com or tweet me @FearlessandTrue.
Related: Auburn's first national championship shirt.
…
Keep Reading:
* Bama fan refuses to remove "Go To Hell Auburn" sticker on TLC's On The Fly.
* Zac Efron in an Auburn shirt
* Rare video of Shug saying football got him through D-Day
* Sandra Dee poses with The Plainsman
* Elvis says "War Eagle"
* Alabama in Auburn gear
* Diagram of a 1983 Auburn student
* That OTHER time they burned the Glom

Like us on Facebook. Follow us on Twitter. Want to advertise?