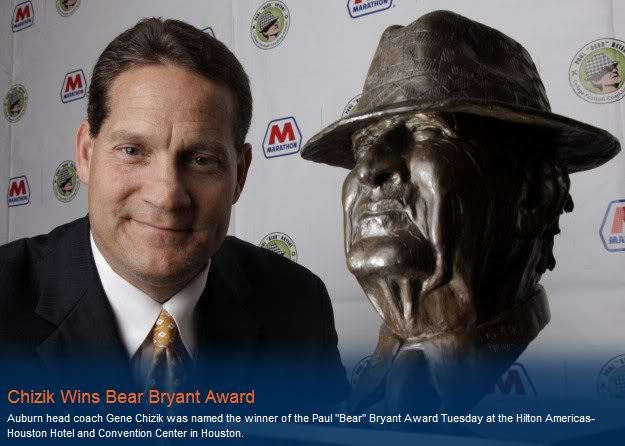 Visiting AuburnTigers.com today will feel for a moment like visiting a Star Wars fan site. (Or a Vigo the Carpathian-centric Ghostbusters 2 site, depending on how you look at it.) Not that we would know what that feels like, but the bust of Bear Bryant pictured on the homepage and given to the recipient of the Paul "Bear" Bryant Coach of the Year Award— this year, Gene Chizik —certainly resembles the gruesome expression of one Han Solo, frozen in Jabba's carbonite.
And then, before you can even process the macabre juxtaposition of Chizik's classic grin cheek to cheek with Bryant's death mask, a hologram of Auburn princess Nell Fortner appears out of nowhere and asks you to help that great rebel alliance known as Auburn Women's Basketball in it's quest to defeat Darth Summitt this Sunday at Auburn Arena. (You will never find a more wretched hive of scum and villainy. We must be cautious. And loud.)
As Justin wondered, we're not sure which is the better Jay Jacobs hire: Gene Chizik for bringing Auburn its first national championship since 1957 (and it's third Bear Bryant Award in as many coaches), or Nell Fortner for being just generally awesome ("click, click").
…
Did you see something AUsome? Weird? Today? Whenever? Take a picture of it? Screen cap it? Know someone who did?
Send it to us at photos@thewareaglereader.com
… and check out the Photo of the Day archives.
…
Keep Reading:
* An interview with Auburn YouTube sensation Chris Lowe
* Former Auburn football kills elephant with just a bow and arrow
* TWER interviews Paul Finebaum about Bo Jackson's Heisman campaign
* Crowd shots from the 1973 Auburn-Florida game
* The Secret History of an Underground Iron Bowl
* VIDEO: What if the airport heckler got a do over?