It's a week until football. You're wondering how you are going to possibly survive, how you will possibly entertain yourself over the next eight days. You've grown weary of watching the same SportsCenter over and over*, you're probably a Braves fan and they're in a slump, and if you're not the parent of a boy 8-13 years of age you still think the Little League World Series being televised is just kind of weird.
And after this year's free agency period, while taking nothing away for the maxed-out elation for upcoming football, you're still psyched about some hoopball.
Lucky for you, the 2010 FIBA World Basketball Championships tip off on Saturday, and Team USA will be playing five games in six days.
Sure, there are plenty of reasons not to watch. It's not the Olympics. Some of the games are on at weird times. There's exactly zero members of the '08 Olympic team returning, meaning no Kobe, no LeBron, no Carmelo, no Dwyane Wade, no Dwight Howard, no Chris Bosh, no Chris Paul, and none of the NBA's biggest mega-stars (see also: biggest mega-sissies) will be there.
But there are far many more reasons to watch.
The first reason is pictured above: Kevin Durant**… and, beyond him, the entire lovable cast on this year's squad. Not only does the team feature two of the four participants in this awesomeness (and better yet, two out of the three that didn't go to Alabama), but you also don't hate anybody on this team. No one on this team has a crime record. No one on this team has been involved in a decade's long drama with another member. And no one on this team quit in Game 5. They're new, they're fun, and they're exciting.
Secondly, if you don't think this tournament matters, think again. It matters. And as for Team USA, the stars and stripes haven't taken home the FIBA crown since 1994. Yeah. 1994. This one counts, lest we make it a 20 year drought before the 2014 championships.
And if that doesn't do it for you, of course, if you have any extra patriotism left over from this year's Winter Olympics and FIFA World Cup, then here's your chance to let it all out.
But best of all, it will, like the calm before the storm, lead you right into next Saturday. Sure, the tournament will bleed over a bit as it doesn't end until September 12th, but we are a generation of multi-taskers, are we not?
And so, here I am, with the leaves changing, classes in full swing, and football in the air, previewing a basketball tournament. Go figure. And enjoy.
THE RECAP: Over the past two weeks, Team USA has competed in four games in the 2010 Global Community Cup Tour, which, despite its fancy name, is just a series of exhibition warm-up games before the actual tournament. The first of these games was actually the culmination of the four day Nike World Basketball Festival in New York (again, fancy name, still an exhibition) in Madison Square Garden on August 15th, where Team USA shellacked France 86-55.
Next, the team flew over to Madrid, Spain, for two games on back to back nights. First, on August 21st, the team overcame a sluggish start to top Lithuania 77-61. Then a day later, on August 22nd, they defeated the homestanding Spain in an absolute thriller, 86-85.
Finally, last Wednesday, on August 25, Team USA came up big against Greece, in Athens, winning 87-59.
The highlight of this series was, of course, the 86-85 win over tournament co-favorite Spain.
While Spain has been known to keep their cards close to the vest and hide their good stuff, even in games that actually count, there's no doubt that they wanted a victory over the Americans in front of their home crowd in Madrid, and they wanted it bad.
They didn't get it. Team USA came out on top. And I'm certain that Coach K, in his sixth year as coach of the national team, has learned the international basketball's art of hiding what needs to be hidden, and while the USA's top players got top minutes in that game, I'm sure Coach K held a couple of cards up his own sleeve as well.
So while the victory might not be whole proof to be entirely encouraged, defeating your greatest threat on their home floor leading into the championship certainly isn't any reason to be discouraged.
THE CAST: You've heard the term a million times in sports; "Hollywood couldn't write this."
Well this time they could.
To me, the funniest thing when looking at the Team USA roster is that the starting five is a perfect example of the Five Man Team cliché, as seen in the Ninja Turtles, or Voltron, or Thunder Cats, or pretty much any cartoon team of protagonists from your childhood. Kevin Durant is the leader and the face of the team, Derrick Rose is the fiery second-in-command (who is just as good, but just not the main guy for some reason), Chauncey Billups is the wily old veteran, Andre Iguodala is the lovable big man, and Lamar Odom is the quirky, kind of nerdy guy. Sound familiar? Of course it does.
The most notable name lacking is Amare Stoudemire (who, in my opinion, would have totally ruined the team because he doesn't really qualify as the lovable big man or the nerdy guy… and he doesn't play defense, either). Amare planned on playing with the team this summer, and was expected to be the team's greatest weapon, as he has had more All-Star game appearances than everyone on the team not named Chauncey Billups combined. However, Amare's new team, the Knicks, forced him to sit the summer out due to an insurance problem, in case he got hurt playing for Team USA.
Another big name who was expected to be on the team but isn't is Rajon Rondo. Rajon bowed out and withdrew from the team earlier this week for a family reason, making the decision for Coach K, as Rondo was already on the cut bubble (the final roster had to trim from 13 to 12 before the tournament began). Rondo may well have been the biggest name on the team, but he just wasn't the right fit, and registered a DNP-CD in the final warm-up game against Greece before withdrawing before he could be cut.
But the team still has star power, for even he most casual of basketball fans. You know who Kevin Durant and Derrick Rose are, and you know who Chauncey Billups, Andre Iguodala, and Lamar Odom are. You probably remember the young guys from their days in college: Steph Curry from Davidson, Kevin Love from UCLA, and Eric Gordon from Indiana. Russell Westbrook, Danny Granger, Tyson Chandler, and Rudy Gay round out the roster.
The head coach, of course, is legendary Duke coach Mike Krzyzewski. His assistants aren't too shabby either; Jim Boeheim is the head coach at Syracuse and Jay Triano is the head coach of the Toronto Raptors.
So while the squad might be lacking in superstars, it still has Durant, Rose, and a fantastic trio of coaches. The most notable of all, as I've mentioned, is Durant, who has been the guy from the start. The NBA's fastest rising star, who Coach K let slip at the beginning of team training as being the only guy there guaranteed to make the team, is a perfect fit for the international game with his size and versatility. You can expect him to lead the team in scoring night in and night out, with 25 to 30 points as needed, and, because of the situation and the team around him, possibly break USA Basketball records for points per game in a tournament. And if everything goes right, you can expect him to be the first American FIBA World Championships Tournament MVP since a young, tenderfooted Shaq did it in '94.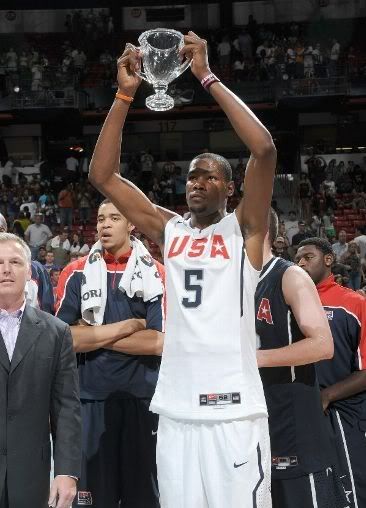 THE BASKETBALL: The most interesting thing you'll see when you look over the Team USA roster and rotation is the play at the guard positions. Specifically, the fact that there is only one shooting guard on the team. Eric Gordon, from the Clippers, is the only guard on the roster that is classified as a shooting guard. The rest — Derrick Rose, Chauncey Billups, Russell Westbrook, and Stephen Curry — are all known as ball handlers on their respective teams.
To fix the rotation, Chauncey Billups was moved over to the 2-spot and will start there, with the natural shooter Eric Gordon backing him up. On the opposite side, at point guard, Derrick Rose will get the start, with Russell Westbrook behind him. Steph Curry, who has been battling a nagging ankle tweak, will start the tournament behind all of them, and will come in for either the point guard or the shooting guard, as needed.
The dark horse to watch out if this group that will turn some heads is Russell Westbrook, if only because he beat out an All-Star like Rajon Rondo for that second point guard position. Much like how an NFL team cuts the third best quarterback in favor of the salary-cap-friendly fourth best after the third loses the backup position to the second, Rondo, who may be a better overall player than Steph Curry, was at the bottom of the pecking order after losing the backup PG spot to Westbrook, and showing an inability to be a hybrid off the bench like Curry. Westbrook, whose physical frame is a carbon copy of Rose's (zero inches and three pounds differentiate the two), just fits in the system better than Rondo did, and the chemistry he has developed with Durant at the Thunder and Kevin Love back at UCLA certainly won't hurt.
The big men down low will be Lamar Odom, Kevin Love, and Tyson Chandler, most likely in that order. Simple enough. But their roles might not be so simple. International basketball is a very physical brand of basketball, and these guys won't be feeling the love from officials as they would in the NBA. As the team's main offensive strength is with the forward positions, these guys are mostly going to be relied upon for defense and rebounding, and if they're going to effectively do that against some of the elite international competition, they're going to have to be very physical. Luckily for Coach K and company, these guys should have no problem with that. Love and Chandler are monsters, and they won't be pushed around too easily. Meanwhile, Odom has been on Team USA many times before, in off-Olympic years, and is familiar with the physicality of international basketball.
As previously mentioned, the team's greatest offensive strength will lie with the forwards. Since Coach K has installed a rather traditional version of the center position in the offense, the forwards will mostly forgo the Small and Power labels and run as opposite wingmen. Durant and Iguodala will be getting the start, as Iguodala will be moving up from his traditional position as a hybrid guard at the 76ers to more of a small forward than anything else here on Team USA. The move makes sense once you see Iguodala's speed on the fast break — and the fast break is a very important part of the international game.
Iguodala will probably split time right down the middle with Rudy Gay, who is a close third behind the two starters in this wingman position. Meanwhile, on the other side, Danny Granger will mostly be coming in during the scarce moments that Durant is not on the court.
Durant will be getting by far the most minutes on the team in games that are not over by halftime. As Coach K himself has said, the team's rotation will mostly be revolving around him.
THE OPPOSITION: Eighteen years ago, at the Games of the 25th Olympiad, the one and only Dream Team rocked Barcelona and '92 Olympics, and an entire country became hooked on basketball.
Today, Spain stands as the greatest opponent to the United States on the hardcourt.
The Americans and the Spanish are the consensus co-favorites to win it all this year, and many international outlets are favoring Spain. The Spanish, who have their own superstars — Marc Gasol, Ricky Rubio — are a force to be reckoned with, as you well know after the 08 Olympic wake up call, and the nail-biter from just last week.
They're the defending FIBA World Champions from 2006, they won silver in the European Championships in 2007, silver at the Olympics in 2008, and dominated the European Championships in 2009 to win gold. They're good. They're legit.
The other trendy pick this year is Greece, who is largely considered third best and a very dangerous team. Their trophy cabinet isn't quite as full as Spain's, mostly because of Spain. In the 2006 FIBA Championships, as we well know, Greece upset the United States in the semifinals, but lost to Spain in the final. Then in both the 2007 and 2009 European Championships, Greece would move on to the semifinals only to be matched up against Spain, and to lose to Spain, but go on to win in the bronze medal game.
Of course, neither of those teams were drawn into the same group as Team USA. The tournament is set up to first play the preliminary round with four groups of six playing in round robin format, with the top four from each group moving ahead to be seeded and play in the knockout round. The Americans' toughest challenges in pool play will come against Slovenia and Brazil; the second and third games in pool play, respectively. Team USA will open the tournament against Croatia, and end the preliminary round against group bottomfeeders Iran and Tunisia, who round out the group.
(Full group lists and schedules and can be found here, and the groups there are ordered to coincide with the line pairing that the tournament draw used, so the order that the teams are listed in in those groups can be kind of seen as official tournament-recognized Power Rankings going into the tournament. Convenient, no?)
Moving on to the Knockout Stage, it should be noted that the winners of Group B and the winners of Group D are placed on the same side of the bracket. So, more than likely, probable Group B winners Team USA, will be playing probable Group D winners Spain in the semifinals instead of the finals.
But the most interesting bracket discussion, at least presently, is the possibility of Greece finishing second in their group, in which case they would face Team USA (presuming Team USA wins their group) in just the second round of the quarterfinals. This frightening scenario seemed very possible, especially after it was announced that the fight that broke out in the warm-up game between Greece and Serbia would result in suspensions for both teams by FIBA. It seemed very possible that Greece could have players suspended for their matchup against Turkey, the third game in, who are the biggest challengers to Greece in Group C.
However, yesterday it was announced that Greece's Antonis Fostis and Sofoklis Schortsanitis would be suspended for two games, and will be able to return for the Turkey game.
Still, the Greeks could lose to a homestanding Turkey team who will be giving them everything they have, or they could lose in one of their first two games, against Russia and Puerto Rico, while those players are suspended. It certainly is something that USA fans should be paying attention to in the early going.
One thing we do know, though, is that Team USA will be playing all of their games in Istanbul. Each group will be playing out their games in different cities in Turkey, with the Knockout Stage bringing everyone together and having all of its games in one of them. That city happens to be Istanbul, that group happens to be Group B, and Team USA happens to be in Group B.
THE WATCHING: When watching international basketball, there are obviously a few differences. The games are much more physical, there is much more emphasis on the fast break, the three point line is about a foot and half closer, the key is a trapezoid, and the traveling calls are tricky. Oh man, you'll see a lot of traveling calls, especially against Team USA. The rule itself is a bit different and limiting internationally, and it doesn't help that NBA referees hardly call our version of it anyway.
But with a few differences, it's awesome, high quality hoops, and it all can be seen here in the States on the ESPN family of networks. Every Team USA game will find its way onto one of ESPN's channels, while every game of the tournament, including international vs. international games, can be caught on ESPN3.com. The full Team USA ESPN schedule can be found here, including night re-airings.
This week, all times Central:
Saturday – Team USA's tournament tips off in the morning at 11am against Croatia live on ESPN Classic, and re-airing at 10pm on ESPN2.
Sunday – Team USA's toughest test in the group is against Slovenia on Sunday, live at 8:30am and re-airing at 5pm, both on ESPN2.
Monday – USA vs. Brazil live at 1:30pm on ESPN, and re-airing at 10pm on ESPN2.
Wednesday – USA vs. Iran live at 11am on ESPN, and re-airing at 10pm on ESPN2.
Thursday – USA vs. Tunisia live at 8:30am and re-airing at 11:30pm, both on ESPN2.
Then things will get a little clustered as the knockout matchups are set and take place at the beginning of next week.
One thing to note: The semifinals, which could possibly feature the Game of the Tournament against Spain, are on a Saturday during football season, but, luckily for us, are totally watchable. Auburn's game that week is Mississippi State, which is of course on a Thursday, so we'll be sitting in front of the TV that Saturday. The two semifinal games will take place at 11am and 1:30pm on ESPN Classic, and will be on at the same time as some college football, but not the Bama / Penn State game, which will be at night. And if you can't forgo some college football for USA hoops, perhaps you can forgo some NFL for it, because both semifinals will be re-airing Sunday morning on ESPN2, leading up to the live final on ESPN at 1:30pm.
As for the ESPN announcers, they'll be highlighted by color commenter Fran Fraschilla, who, if you've never heard him, just know that he's a more than fitting counterpart to Ron Franklin in their Big 12 hoops tandem, and that should tell you how good he is. He has formerly coached overseas and is a regular NBA Draft analyst, specializing in the foreign players, so he knows what he's talking about. He, unlike international hoops commentating disasters like Bill Walton, will tell you exactly why FIBA uses a trapezoid for a key, instead of giving you geography lessons as to which country is "nestled" between which other countries. (The trapezoid is to give the offensive player a better chance at getting the rebound on free throws. Didn't know that did you?)
And, one last thing: FIBA.com has a great set of video Team Profiles on each team competing in the tournament, so if you're curious about certain teams, or want to check out an opponent before a game against USA, I suggest you check them out. Here's Spain and Greece, and all the others can easily be found in the side panel there.
Enjoy the hoops. See you next week.
*The nightly SportCenter script, as described by a friend of mine: Baseball highlights, talk about Brett Favre for a minute, show the Miami Heat celebration for a few seconds, talk about NFL players that have broken the law, more baseball highlights. Repeat.
** And if you're not yet a fan of Kevin Durant, I'd direct you to this innocent, unspellchecked tweet, released at 9:44 A.M. back on July 7th. Later that same day, LeBron James would announce his signing on 'The Decision'. Compare and contrast. You love Durant now don't you? Me too.