The Daily Believer is your daily dose of whAUtever, a dose that grows by the second, minute, hour, who knows. Maybe there's something going on tonight at the Gnu's Room. Maybe there's a volleyball game. Maybe there's some update to The War Eagle Reader you need to know about. Maybe last night's episode of House referenced Bo. Maybe Pat Dye's Pants have no reserve on eBay. In other words, we're live-blogging Auburn – town, gown, idea – and we need your help. Are you putting on an event? A show? Let us know. Know about one? Let us know. Spot Chizik at Byrons? Let us know. Did you see that episode of House? Let us know.
Write to mail@thewareaglreader.com.
Check here – the same post. Check AUften.
Monday, October 26, 2009 [new posts at the top]
*** The photo of the day might also bring a smile. — [JDH – 4:50 p.m]
*** WATCH THIS VIDEO. IT WILL MAKE YOU FEEL BETTER.
Just listen to Todd: "We have a really good football team."
Listen to Coleman on Eltoro:  "He's a real Auburn man. That's how you fight back and come back and have an outstanding game like he did."
War Eagle, men. — [JDH – 4:39 p.m]
*** Indie Rock Karaoke returns to The Independent tonight for the first time in three weeks. 9 p.m. – 2 a.m. It'll be happening tomorrow night, too. —  [JDH – 3:55 p.m]
*** The Madison Jones story is up on the front page. Check it out. — [JDH – 12:38 p.m]
***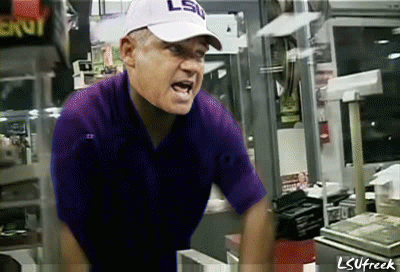 Looks like the ever-cromulent EDSBS has linked to Jerry's latest. Complete with pictures. — [JDH – 11:16 a.m.]
*** Late start today. Happy Birthday Mumsy!
Jerry's Sunday Make That Monday Knee-Jerk is up.
In addition to a new column by Kenny Smith, I'm also happy to report that Ben Bartley's story on Madison Jones (along with photos by Marybeth Manifold) will soon be up. Here's a sample:
He considers his best work to be "A Cry of Absence" — a book concerning race and murder in rural Tennessee that Southern Magazine once called "the last pure tragedy written by a southerner."

It was published in 1971 and was to be made into a movie. Jones even drove out to Holly…Wood (he drawls a pause between "Holly" and "Wood."), but it never happened. Part of the reason, he says, was a negative review in Time Magazine. He refers to the reviewer as "that bastard."
— [JDH – 11:06 a.m]